A large-scale smartphone project that achieves the pinnacle of security and employs high-level, unique technologies from across the globe. Curved glass insert molding with In-mold Decoation achieved by YOSHIDA, the company that created the world's first glass insert molding with In-mold Decoration
A smartphone that costs ¥1.6 million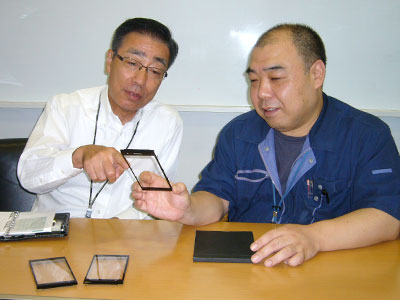 In November 2014, Mr. Aida, a member of YOSHIDA's design group, was facing a major decision: "Is this possible with our technology or not?"
Although the unknown Israeli company's proposal was initially met with skepticism, the incredible scale of the smartphone project they were revealing was amazing to our engineers. The software offered world-leading security, and the hardware was being produced by a collaboration of manufacturers from around the world, handpicked for their one-of-a-kind technologies. The price tag was even more surprising: $15,000! The biggest challenge was presented by the glass insert, which was curved at the top and bottom.
Given that even flat glass can break inside the mold, how would we achieve integral molding of curved glass?
For Mr. Aida, who had previously worked on two injection molded products with glass inserts, this highly challenging smartphone design specification was enough to make him shake in his boots.
Mr. Aida wanted to give it a shot, but the chance of failure was high. It was at this point that his boss, Mr. Ideshita, issued a powerful statement: "It is possible."
Finding solutions to unresolved technological challenges is what drives our spirit of innovation
We had already succeeded in manufacturing the world's first injection molded products with glass inserts, with two projects under our belts. Our accumulated experience and expertise argued that even a curved glass insert wasn't beyond reach. The tempered glass used in smartphones is cut using high-precision machinery, yet there are still slight variations in length and thickness, and even flat glass sometimes breaks in the mold.
With curved glass, since variations in curve geometry make for even greater variations, breakage rates were expected to be several times higher than those for flat glass.
Additionally, tempered glass is expensive—as much as 1,000 yen per sheet. Failure to reduce defect rates, aside from not being sensible from a business perspective, could lead to major losses for the company.
Mr. Ideshita remained confident, however. A visit to a factory some months previously to carry out an inspection of in-molded products with glass inserts had given him an idea that came from his experience and knowledge as a cosmetic container designer in his youth. He reasoned that utilizing similar mold construction should make it possible to accomplish molding without breakage, even for curved glass.
A sense of accomplishment only possible through direct involvement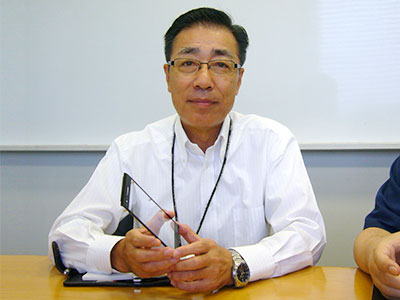 On May 31, 2016, Mr. Nakayama, who had headed the team as project manager, was in London to attend the launch of a new smartphone named Solarin.
Getting to this point was not a walk in the park. While the generation-defining new mold construction proposed by Mr. Ideshita made it possible to reduce the curved glass breakage rate, the team struggled with the in-molded narrow plastic bezel component, which was less than a millimeter wide, and handling curved glass procured overseas, alongside liaisons with other component manufacturers, caused numerous headaches for the sales team. As Mr. Nakayama watched a certain famous Hollywood star raise Solarin high amidst a dazzling flood of camera flashes, he felt a growing sense of accomplishment that could only be felt by someone directly involved in product development.
If YOSHIDA TECHNOWORKS is to survive as a plastic mold manufacturer in Japan, we must continue to take on difficult technological challenges. There is no substitute for the joy of achievement, and at that moment, Mr. Nakayama felt that he wanted nothing more than for younger employees to also have this experience in the years to come.